Campbell Heads Up Guatemala Missionary Program for Presque Isle Wesleyan Church
By: David Deschesne
Fort Fairfield Journal April 4, 2012
Bill Campbell, Fort Fairfield's new police chief, has been traveling to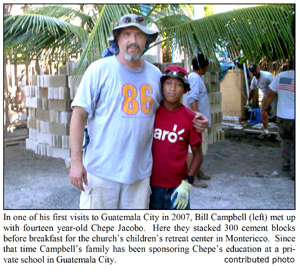 Guatemala for the past four years as part of his church's evangelism outreach ministry.
Campbell heads up the organizational efforts that oversee around a dozen volunteers from the Presque Isle Wesleyan Church (PIWC) as they integrate at least once a year with the Centro Christiano Culturo De Guatemala (CCCG) church in Guatemala City. "I stay in contact with the church there in Guatemala and we come up with an itinerary which is usually pretty fluid but we'll have some solid things throughout the week that define where we're going to be at a particular time and what we're going to be doing," said Campbell. "The projects and things that folks can get involved with are endless and the church is always looking for ways to help the kids and to help the communities that they're involved with."
Currently, the CCCG is feeding anywhere from 1800 to 2100 kids throughout the month and breakfast before school to close to 300 children every day at the church.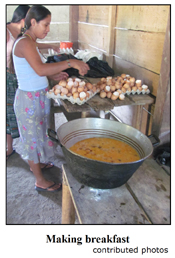 The PIWC missionary group that Campbell organizes does not have an official name. "The teams are always different. Anywhere from six to thirteen people go at least once a year. The times of the year vary. Last year I led a team at the end of June but normally it's around the end of August that we go."

Campbell says they're usually in the country for at least eight or nine days with a travel day on each end and participate in evangelism and community outreach/humanitarian programs as they come up. "It all depends on what the church is doing at the time. This church began around twenty years ago and is located in a ravine in one of the poorer sections of Guatemala City. They're right on the edge of the city, in the middle of a very, very poor slum neighborhood. They began their mission work there feeding the kids who lived and still live in the ravine and they still do that to this day; feeding them a breakfast meal every morning before they go to school."

In June of last year, Campbell's group assisted in the finishing of a new health clinic there. "There was some painting and touch

-up work that needed to be done. That's what we had for one of our projects because we were such a small team that time. We did some painting there and back in Guatemala city we helped with building some bathrooms and showers in a couple of homes for church members. Different little construction projects here and there."

In addition to feeding the local children, the CCCG also branches out to cities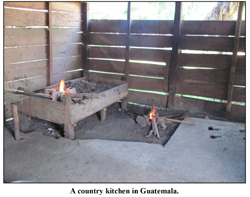 hundreds of miles north and south of their location. "They don't just feed the people in the ravine. They go several hours to the north to a town called Rio Dulce, a couple hours from Belize. Every weekend a team goes North and a team goes south.

They'll hit anywhere from two to three villages. They'll go into those villages on a Friday night, get everything prepared and on Saturday morning they'll prepare a breakfast meal for the kids and also a lunch meal for them to take home. They bring vitamins, do computer work with them in the villages and of course the faith

-based program is a main focus on the weekend for the kids."

The CCCG now has a full time missionary in Rio Dulce and Montericco. "They've branched out and put missionaries in both places so that there is somebody there throughout the week that these folks can come to."

Guatemala as a whole is a third

-world country. In Guatemala ten percent of the population own 50 percent of the wealth, whether it's money, property or both. There's a very small middle class and they're only in control of a very small amount of the wealth, and then everybody else is either poverty or extreme poverty. "One of the big commodities there is sugar cane. The areas I go through you can see them growing anything from carrots to grapes to watermelon. For the general population, sustenance wise, it's corn, rice and beans that they live off."

On last August's trip, thirteen people from Presque Isle Wesleyan Church traveled to Guatemala. "We stayed in country for nine days. When we went to Rio Dulce for the weekend some people stayed in the missionary home but the rest of us slept in one of the jungle villages. The only buildings in these communities

- if they have any buildings - that would resemble a modern building would be the school or the church. The school is cinder block with a tin roof but it's completely open, similar to a pavilion." Campbell described the living conditions as very primitive. "Most of the people live in huts. If the people there weren't wearing modern clothes you could envision that it was the 1500's." However, he was quick to add that Guatemala City - a city with a population of 5 million - isn't without its modern facilities. "There is a section in Guatemala City that if someone were to blindfold you and drive you there and take the blindfold off, you'd think you were in a modern city, there are skyscrapers and hotel chains that you'd recognize but these all exist in strictly defined zones."

There is no social welfare system in Guatemala to provide general assistance and food services to the people, like people in the U.S. have become acclimated to over the past several decades. "If you want to survive, it's up to you. I've been driving on the outskirts of the city and seen garbage dumps with kids and adults picking off the garbage. There are areas in the city where the larger dumps are where people actually live; their houses are in the dump. That's what they do, they pick scrap iron, food, it's not a very pleasant place to have to survive. People also pick up firewood, even in the city, lots of people cook on open fires. They're gatherers during the day so they can eat their meal at night and they can have some stuff on hand to begin the next day."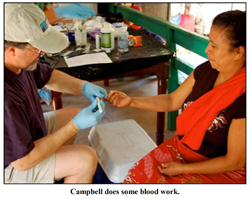 Campbell says that despite the extreme privation, those poverty

-stricken folks seem to respect each other and there isn't a whole lot of crime amongst them. " In the villages and jungle communities I have found the crime rate to be very low and the people tend to get on well with one another in much the same way we would do here." However, in other parts of the country, things aren't so serene. "Criminal gangs are very prevalent in Guatemala City and other populated areas. Gangs that would include the infamous MS-13 which originated in El Salvador, I believe and borders Guatemala. Narco-Traffickers from South America and Mexico have taken over drug trade routes from the south to the north of the country and as a result, cartel violence has escalated in recent years. These groups run drugs and weapons along these routes on a regular basis. Human trafficking for the sex trade has also become more prevalent with the criminal element in the country. Personally, I know of and have visited an area of the city known to the police as a "Red Zone." In this area, the police will not respond to complaints unless they have a large group of officers."

Guatemala is a mix of the original Mayan civilization and Spanish. "Most of the areas we visit are Mayan. In fact they speak a language called Ca

-chi which is a mixture of Spanish and the Mayan language. When you hear them speak it's in a sense like listening to a native American speak. I've picked up enough Spanish that I can listen to what's going on and tell you what the gist of the conversation is. I know enough to ask for what I need and to get directions. I'm not fluent by any stretch, but I can get by."

In addition to feeding the children breakfast, the CCCG also provide English language and computer classes. "They're teaching the kids computer skills and English," said Campbell. "More recently, within the last five to seven years, they started to do some trade work there, like mechanics and welding, to teach the kids who live right there in that neighborhood some skills. The idea is to get them to where they're a more viable commodity in the workplace."

A large number of kids there unfortunately do not continue on to high school. "Typically the families are so poor that as the kids get older and they pick up some skills, and they need an extra income to survive, a lot will not continue on to high school so they just start working to support their families."

While the primary purpose of these trips is evangelism outreach, Campbell's group from PIWC also participate in humanitarian assistance as needed. "On one trip we teamed up with a group of doctors from Seattle who man the clinics on a regular basis. They come around once a month. I remember the first time that I joined up with them we stopped in this village on the way to where we were going and there was a clinic going on there. We got there early in the morning and met with this group of doctors, lab technicians and nurses. They asked who wasn't afraid of blood and I raised my hand and they said okay you go with this young guy, Freddy, who was fourteen years old. He's going to show you how to take blood samples. He showed me how to prick people's fingers, put the blood in the tubes and I drew blood for a whole day. There were a couple hundred people, kids, adults waiting to be seen."

Campbell said there are no hospitals to speak of in the areas his group visits. "There might be something they call a hospital but it's not much more than a first aid station where you get patched up then put in an ambulance and driven several hours to a hospital."

On a couple trips in the past, Campbell assisted CCCG pastor, Dave Alvarez, who is also an EMT on the local ambulance crew. "I stayed over and worked a shift with him on the ambulance. We worked an eight hour shift together and visited two of the hospitals in Guatemala City and it was probably the scariest thing I've ever seen. We went in to one emergency room there and there must have been twenty or thirty people waiting to be seen. Their families were there with them and if they needed food, their families would have to go get food, bring it in and feed it to them. These were very makeshift public hospitals. Anybody who has any money at all buys an insurance policy so they won't have to go to these public hospitals."

On July 26 this year, Campbell and his volunteers from Presque Isle Wesleyan Church are planning on going back to Guatemala. "Twelve local people have committed so far. Right now I don't have any idea what we're going to be doing. We'll be at a village that I visited last year called El Dormido. Our main focus with this village this year is going to be more an evangelism type mission. We're going to go down there and partner with the church in that village and provide some vacation Bible school for the kids. That's the focus of the CCCG: to work mainly with children, wherever they're at, because the children are the ones that are going to grow up and take over the areas that they live in so they're trying to get them a good footing, a good base, to work off of and better opportunities than what their parents have been presented with because of poverty."

In addition to their extensive work in Guatemala, the Presque Isle Wesleyan Church has also done mission work in Africa and have started to branch out, doing at least one mission trip to Haiti.