Washburn Lady Beavers Win Second Consecutive Class D Basketball Title
By: David Deschesne
The Washburn Lady Beavers won their second consecutive Class D Lady's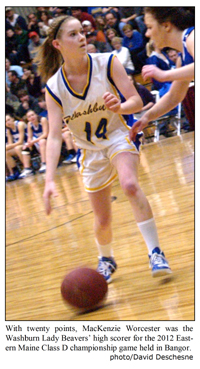 Basketball tournament in Bangor on Saturday, February 25 against the Hodgdon Lady Hawks.
The ladies came out strong in the first quarter with Hodgdon's ladies able to keep pace. Beavers' top scorer, MacKenzie Worcester set the pace with a first quarter tally of eight points, followed by Carmen Bragg and Carsyn Koch with four points each and Olivia Doody and Joan Overman contributing a basket each. The twenty point start for the Beavers was answered with contributions by Hodgdon's Haley Gardiner (eight points) and Lacy McQuarrie (six points) and Mariah Wiley (two points), allowing the Beavers a four point lead at the end of the first eight minutes of game time.
The second quarter saw Washburn step up the defense, only allowing four points to the Hawks, while widening their own lead by an additional nine points. Olivia Doody stepped up for the Beavers with three two pointers and a couple of good free throws sending both teams to the locker room at the half with a score of 35 - 20 for Washburn.
There was no stopping the Beavers as they picked up the pace in the third quarter, widening the gap by another nine points. Bragg and Worcester each logged in a couple of successful three point shots while Koch was able to claim the Beavers' high score for the quarter with eight points. Overman and Doody also contributed a couple of points apeice for the Beavers. Not to be outdone, the Hawks' Jenna Steamer also kept pace with four two-point shots of her own, but the Hawks continued to be frustrated by a solid Washburn defense that only allowed eleven points, ending the third quarter with a comfortable 55 - 31 lead for the Beavers.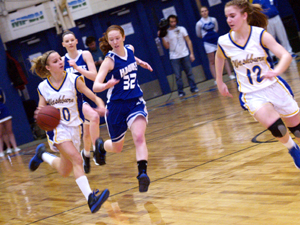 After some brief adjustments to the Hawk defense, Washburn's ladies had their lowest scoring quarter of the game in the final quarter. With both teams scoring thirteen points each in the fourth, the writing was on the wall as the Beaver's coasted in to an easy victory and a chance to once again go for the gold ball in Augusta.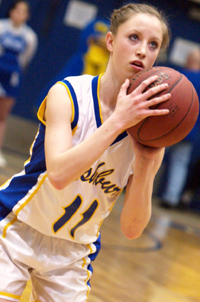 Above: Joan Overman brings the ball into play on the Washburn side of the court;
Left: Carsyn Koch was the second highest scorer for the Washburn lady Beavers at the Eastern Maine Class D championship tournament.
Below: Lady Beavers display their latest prize.
Bottom: Washburn Cheerleaders get the crowd going.
all photos/David Deschesne