Local Amateur Radio Club Seeks Use of LORAN Station
By: David Deschesne
Fort Fairfield Journal, March 6, 2013
PRESQUE ISLE, Maine—The Aroostook Amateur Radio Association (AARA) recently sent letters to Maine's Congressional delegation soliciting their assistance in advocating for the use of the former Long Range Aids to Navigation (LORAN) station in Caribou as a potential home for the amateur radio association's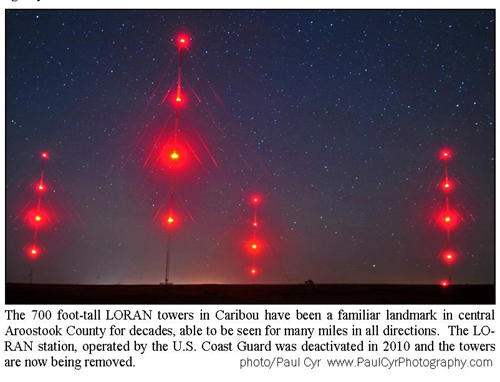 emergency station headquarters and facility in central Aroostook County.
"Our association represents licensed amateur radio operators throughout central Aroostook County. We train to actively assist County and State emergency management agencies in augmenting their communications during disaster relief operations when conventional communication systems are overwhelmed," said AARA president, Ivan Shapiro. "We believe the LORAN location would make an excellent home for our association, where we can provide licensing assistance and training to new amateur radio operators, as well as license upgrades and education of the public. The location, with its remaining towers would be very useful in providing emergency communications for local and state-wide support efforts."
With an unhealthy reliance on the highly fragile internet and cell phone backbone, those who need to communicate in times of dire emergency will find much to their chagrin that those modes are the very first to be damaged or destroyed. Amateur radio systems operate on standard house current or 12 volts direct current, literally from an automobile battery, and a stretch of wire strung over a couple of trees as an antenna. During all of the recent hurricanes and natural disasters in the U.S., volunteer amateur radio operators were called upon to assist in relief operations as the communication systems of first responders simply could not cope with the increased communication traffic.
In his letter to Maine's Congressional delegation, Shapiro wrote; "Our amateur radio club (ham radio), established in 1976 in Presque Isle, Maine, has been continuously functioning as an educational and public service entity. As a licensee by the Federal Communications Commission (FCC) our club with its member licensees endeavors to attract more people to the calling thru educational and licensing/testing/training activities. We conduct training using our club 2-meter repeater for a practice emergency net. Members participate in other nets both in and out of Maine. We are striving to become even more active in the areas of disaster relief communications, emergency communications and other public service ventures."
Shapiro envisions an arrangement that could be made with the government whereby the AARA could use said facilities for the purposes mentioned above. "The towers would make ideal transmission points. Equipment would be furnished by our membership and potential donations, as we have filed for a tax exempt 501C (3) status. We would maintain the facilities in good order and, upon request, return them to their present governmental ownership."
While he admits he's aware that others, perhaps including governmental agencies are interested in this facility, Shapiro notes the AARA's use of the LORAN location would not interfere with them. "In fact, our endeavors in the public interest would supplement governmental use by our expertise in emergency communications."
The LORAN system was designed during World War II as a navigation aid to the Allied troops. The Caribou station was built as test site in 1974. It began transmitting in 1978 and was operated by the U.S. Coast Guard. It functioned as a global positioning system and was used extensively by the U.S. military and private and commercial shipping vessels on the high seas. As part of a large backbone of LORAN stations, ships would receive signals from various LORAN stations all over the world that transmitted world-wide signals and use the delays between the various stations as a way to give an accurate fix on their location.
While LORAN has been since replaced by a more fragile, satellite-based Global Positioning System (GPS), representatives from the National Boating Federation (NBF) were not impressed with the decision to decommission the LORAN system. In a press release the NBF stated, "While GPS units are generally more accurate, they are subject to jamming and interference. The termination of the LORAN-C program came about via the enactment of the fiscal year 2010 Homeland Security Appropriations bill. NBF was successful for many years in overcoming efforts to end LORAN operations, arguing that LORAN provided a complement to and necessary backup for GPS. In the long run budgetary considerations and our growing national debt won out."
The LORAN station in Caribou had the distinction of being the last station to transmit an American LORAN signal thus ending the 67 year LORAN program.
The AARA will be conducting amateur radio license testing at Northern Maine Community College in April. For more information on amateur radio, go to www.k1fs.org or E-mail: hamradio@k1fs.org