Noyes Reaches 1,000 Point Benchmark
Sets New School Scoring Record
By: David Deschesne
Fort Fairfield Journal, February 23, 2011
For the second time in as many weeks, the Fort Fairfield High School Tiger basketball program has logged another entry into the 1,000 point club.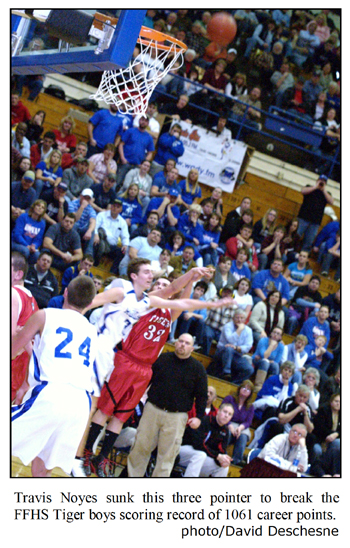 Travis Noyes, a Senior at Fort Fairfield Middle/High School achieved his 1,000th career point at a game held at Washburn High School. At the start of the game, he needed just 19 more points to reach the milestone and scored 19 points in that game.
Noyes follows recent 1000 point inductee, Amanda Hotham, from the Lady Tigers, who recently became the first girl in FFMHS sports history to acquire 1,000 career points at a game held in Easton. Interestingly, both Tigers earned their 1,000th point in games away from home at schools whose primary team colors are blue.
This is also the first time in Fort's history two Tigers achieved 1,000 points during the same season.
Noyes also set a new record, at the tournament in Bangor on Monday, for boys' Tigers career points at 1,073; breaking the old record of 1061 set by Jon Nichols in 1996.
Noyes is the third boys basketball inductee into the 1,000 point club. He follows Shawn Manter, class of 1989 and Jon Nichols, class of 1996. At the following home game against Madawaska, Noyes was publicly congratulated and presented the game ball by Shawn Manter.
Travis scored 86 points as a freshman, 231 points as a sophomore, 335 points as a junior, and currently has scored 371 points as a senior.
"Travis has demonstrated unselfishness throughout his four years on the court, often giving the ball up to a teammate when he could have easily scored," said coach, Todd Alley. "This year, while scoring at a clip of 20.6 per game Travis has averaged 12 assists per game. It has been a privilege for me to watch him grow as a player and an honor to be there when he reached this milestone. It very seldom that you come across a teenager with Travis' offensive skills that are willing to give it up to keep his teammates involved and I have had the pleasure of coaching two such young men. First Austin Dufour and now Travis."
Coach Alley says Travis has an overwhelming sense of positive team attitude toward his teammates. "Two examples of Travis' team-first attitude are: If we have more than a 20 point lead in a game, he won't look to shoot and keeps all his teammates involved." said Coach Alley. "If you look at the stats from games when we have had blow-outs, his points will be way down, but his assists way up. And the second example is the morning of the game he scored his 1000th point, he came and asked me if they were going to stop the game if he happened to get it there. I told him they would and he asked that they not because he didn't want to risk the team loosing it's focus if the game was tight because a team win was way more important than him getting his 1000th. It takes a big person to set aside personal achievement for the good of the team and for that I respect this young man."