Bill & Dawn Findlen Receive
Lifetime Achievement Award at
FF Chamber's Annual Dinner
Brent Churchill named Citizen of the Year
White's Dentistry is Business of the Year
By: David Deschesne
Fort Fairfield Journal, February 22, 2012
On Thursday, February 9, 2012 the Fort Fairfield Chamber of Commerce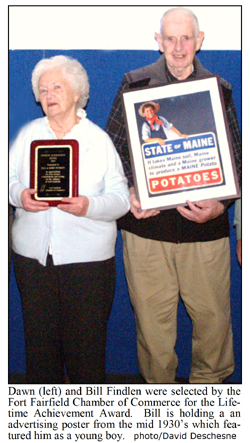 hosted their annual dinner at the Fort Fairfield Community Center. The meal was once again catered by the Hillside IGA staff. The Chamber directors recognized local citizens for lifetime achievement award, spirit awards, citizen of the year and business of the year. This year's Lifetime Achievement award went to Bill and Dawn Findlen.
Fort Fairfield town manager, Dan Foster presented the Lifetime Achievement award to Bill and Dawn Findlen on behalf of the Chamber of Commerce. The Lifetime Achievement award is given from time to time to recognize the efforts made by an individual, or in some cases a couple, who have enhanced the quality of the life in Fort Fairfield over their lifetime.
"Tonight we recognize the efforts of a couple who have been married for 61 years and throughout those many years have demonstrated a commitment to each other, to their family, to their cultural values and this community," said Foster. "Bill and Dawn started their married life together growing potatoes and raising horses on the family farm, bringing up four fine sons. David, Dan, Jeff and Scott all still live right here in Central Aroostook County. After farming for over 20 years they both started what turned out to be successful careers in education, Bill at NMCC and Dawn as one of the first women guidance councilors in Presque Isle. They are life-long members of St Paul's Episcopal Church where Bill served on the vestry and sang in the choir, Dawn was very involved with the Pine and Spurs Riding Club and currently are very active members of the Frontier Heritage Historical Society."
In the mid 1930's Bill Findlen's picture was used in the first major advertising campaign for Maine Potatoes. "It represents all that is good and wholesome about our agricultural heritage," said Foster. "You might say that this was the beginning of a lifetime of service to this industry and our community.
"Throughout their years together Dawn and Bill have always maintained their agricultural roots, they continue to live on the family farm and though they have not farmed for a number of years, it has not diminished their efforts to preserve our agricultural heritage primarily through their involvement in the Frontier Heritage Society. Bill has been the driving force in acquiring machinery, equipment and real estate that epitomizes the practices and traditions of our past."
Both Bill and Dawn were instrumental in raising significant funds to support the Heritage Society by helping to manage Bingo night at the American Legion in Caribou. This was a great fundraiser for this organization."
Bill was instrumental in obtaining the Haines Saw Mill for the historical society and has taken great pleasure in organizing the display at the Blockhouse and seeing it manned during the Potato Blossom Festival so that the public can tour the facility.
"Part of the charm of this unique couple is their enthusiasm and willingness to tackle most anything," said Foster. "It is a clear example of mind over matter. Physically the years have not been kind and despite the obvious physical limitations have not been an impediment to renovating homes, stacking firewood or climbing on roofs. Theirs is a can-do attitude that is so characteristic of the Aroostook County mindset: Find a way! Get it done!"
Citizen of the Year
The 2012 Fort Fairfield Citizen of the Year is, Mr. Brent Churchill. Brent is a business owner, volunteer, advocate, sponsor, supporter, and all-around

hardworking family man. Born and raised in Fort Fairfield, he has demonstrated countless times genuine care for this community and its residents. In our town he has helped Amish families establish their new home; served as the first and current President of the Quality of Place Council; chaired the Agricultural Development Committee; lobbied for affordable, accessible healthcare; encouraged business development; volunteered at Chamber of Commerce events ; played an instrumental role in implementing the Economic Development Strategy; and has been involved in many other efforts to promote Fort Fairfield - often going about this work quietly with many people never fully knowing his impact or effort.
"Brent certainly exemplifies what it means to be an active, productive citizen," said Kim Jones, from the Fort Fairfield Chamber of Commerce. "But most impressively to me as I've gotten to know and work with Brent through some of the aforementioned committees is that he faces every challenge, every project, and every person with a smile and can-do spirit. He is reassuring and inspiring. He is full of faith and hope. And he is as dedicated as anyone I know to making Fort Fairfield flourish."
"Brent's wife Connie, offered me some personal insight into Brent's life saying that he deeply loves his family, especially his children Mark, Scott, and Ashley. That he is a man of great integrity, sincerity, and honesty. And that during Connie's health problems these past few years, he showed her the patience, dedication, support, and compassion that, in her words, make him the finest, most loving husband she could ever ask for."
Business of the Year
This year's Business of the Year is White Smiles Family Dentistry in Fort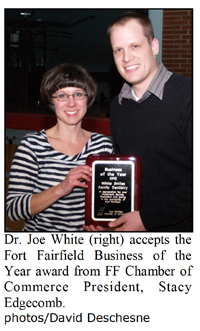 Fairfield. Owned by Dr. Joe White, White Smiles has been in business in the former Cassidy dental building in Fort Fairfield since 2010.
White's award was presented by Carolyn Dorsey-Durepo, from the Fort Fairfield Chamber of Commerce.
"It has been a busy few years for Dr. White and his staff. The entire office has been renovated, from new dental chairs to digital x-ray equipment," said Durepo. "Since arriving in 2010 the practice has doubled in size and Dr. White has brought on 4 new hygienists."
The office now employs eleven people. "Patients love him and his personality; he's very fair and involved. He and his family loves the area; winter and all outdoor sports."