New Women's Imaging Center At Cary Medical Center Provides Advanced, Comprehensive Breast Care For Women in Aroostook
With the focus on patient comfort, convenience, and privacy, the new Women's Imaging Center at Cary Medical Center features the most advanced diagnostic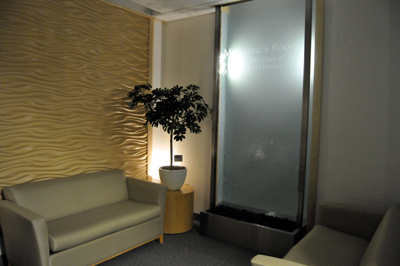 mammography services in Northern Maine, including the addition of state

-of-the-art digital mammography and stereotactic breast biopsy systems, and a unique Patient Navigator Service.

According to Dr. Shawn Laferriere, Medical Director of Radiology at Cary Medical Center, the Women's Imaging Center features the Siemens Mammomat Inspiration Full

-Field Digital Mammography, and Siemens MammoTest Stereotactic Breast Biopsy Systems. The Mammomat Inspiration offers digital screening and diagnostic mammography producing excellent image quality using industry leading technology designed to minimize the patient's radiation dose and exposure time. There currently is no other unit of its kind north of Boston.

"The hospital's purchase of the Siemens Mammomat Inspiration represents our dedication to using the highest quality full

-field digital mammography system," Laferriere said. "We are also very proud to bring the first fully digital, fixed-base stereotactic biopsy system to Cary and Aroostook County," Laferriere continued. "The new breast biopsy system allows for a minimally invasive procedure with increased patient comfort, and has the ability of identifying the smallest calcifications, allowing for a more precise and efficient diagnosis," he explained.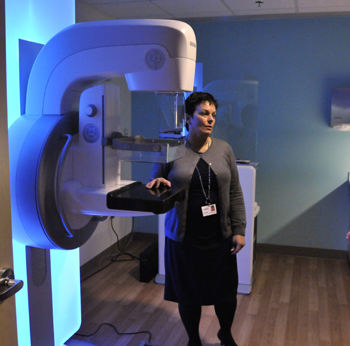 "With our existing breast Magnetic Resonance Imaging, (MRD and breast ultrasound testing capabilities, the addition of our new equipment provides our patients with the most advanced breast diagnostic services in Aroostook County," Laferriere added.

Complementing the new technology, the Center provides a "spa" like private patient waiting area and individual changing rooms with personal lockable armoires. The center's specialty trained mammography team also engages patients in a "navigation process" helping women through their procedures whether a routine screening mammogram or a diagnostic exam, making sure the patient has the best possible experience with support from her medical team.

"Our new patient navigator program is designed to enhance access to all aspects of breast care

at Cary by helping to provide more efficient delivery of care, improved sharing of resources, and removal of barriers to care, all through enhanced relationships with each of our patients," explained Leslie Anderson, PT, MSB, Manager of Imaging and Rehabilitation Services at Cary. "Our goal has been to not only bring advanced state-of-the-art technologies to northern Maine, but to also create an overall breast care program designed at improving the coordination of high quality breast care. This means providing same-day diagnostic or follow-up mammography results for our patients, with the opportunity to meet with one of our radiologists and review their exam one-on-one, so that each patient understands their results before they leave the center."

"Our Center really sets a new standard for women's imaging services in Northern Maine," Laferriere added. "And, our dedicated team of radiologists, pathologists, surgeons and primary care physicians are all working together in a cohesive way, with only one goal in mind, the best care for our patients."

The $800,000 hospital project is being funded through a capital campaign project by the Jefferson Cary Foundation. The new Center opened in December, 2012, with generous donations totaling

just over $780,000 to date from several sources, including both Cary and Pines Health Services employees, volunteers, and board members; the Cary Ladies Auxiliary, the Foundation, and many corporate/community donations.

"We are so proud and humbled by the generosity and support for this project by our Cary and Pines families, all of the local civic groups, corporate and indi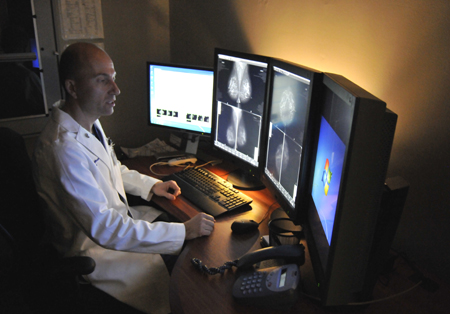 vidual donors and local community, " said Kris Doody, RN, MSB, Cary Chief Executive Officer. "Early detection of breast cancer with regular

mammogram screenings is so critical for our patients. The time is now right for the hospital to raise the bar in making these advanced services available to them."