Maine's Leading Independent News Source
Fort Fairfield Journal About Us Contact Us Advertising Rates Subscribe Distribution Bible Reference Our Library
Governor Signs Emergency Legislation to Temporarily Block Release of Concealed Firearms Permit Holders' Information
AUGUSTA – Governor Paul R. LePage signed today an emergency bill, which takes effect immediately, to temporarily block the release of concealed firearms permit holders' names, addresses and dates of birth to the public. The Governor submitted the legislation Friday in response to information requests received by law enforcement agencies across the state.
The bipartisan sponsored bill, L.D. 576 "Resolve, To Protect Concealed Handgun Permit Information on a Temporary Basis", was passed by the Legislature Tuesday and will provide immediate protection for law-abiding concealed firearms permit holders while providing the Legislature time to properly consider Representative Corey Wilson's bill (LD 345), which would make this information permanently private.
"I applaud the Legislature for expediting this matter," said Governor LePage. "Now the debate can continue in the Legislature based on the merits of the bill while ensuring safety for all Mainers."
BOOKMART
Used Books, Movies and More!
Copy Print Fax
252 Main Street
Fort Fairfield, Maine
(207) 472-3900
Debt Collector Lawsuit Defense
Educate Yourself with our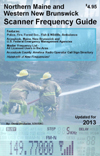 Northern Maine & Western New Brunswick Scanner Frequency Guide
2013 Edition
- Newly Revised
- Over 50 pages
- Emergency Government
Frequencies
- All Licensed Business and
Government Radios in Northern
Maine
- Aroostook County Ham Radio
Call sign Directory!
Available at:
BOOKMART, Ft. Fd.
Hillside IGA, Ft. Fd.
Buck's Market, P.I.
Bradley's Citgo, P.I.
Stew's Radio Shack, P.I.
Grave's Shop & Save, P.I.
C.J.'s Service Center, Caribou
Mars Hill IGA, Mars Hill
Fort Fairfield Journal ©2013 David R. Deschesne, All Rights Reserved