Back to Fort Fairfield Journal      WFFJ-TV      Contact Us
Caribou Will Be Home to New Christian Education Center
By:  David Deschesne
Fort Fairfield Journal, August 29, 2018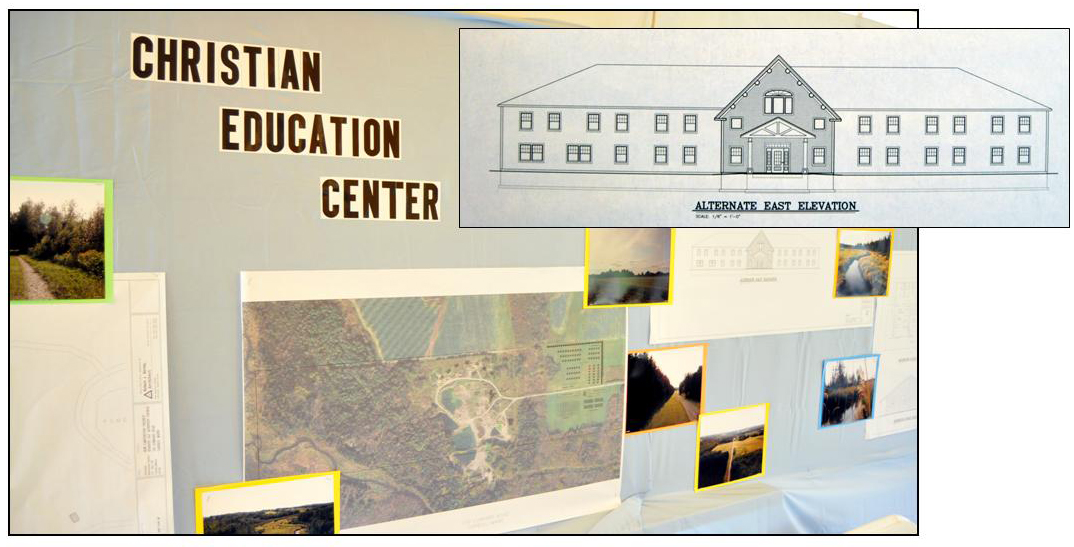 A new Christian school and campground is being planned for 100 Lombard Street in Caribou, across the street from the Maine Veterans Cemetery.
   Formally called the Christian Education Center, the project is being undertaken by the Caribou Seventh Day Adventist assembly (Caribou SDA).  They look forward to developing a learning center and campsites in the near future.
   John Record, from Perham, is one of the project organizers.  He says the focus will be on education.  While their primary focus of course will be in spiritual matters, they also plan to provide teaching practical skills ranging from homemaking to construction.  "We're going to work in an education situation.  We can educate people in health, better thinking, positive ideas, and we can help young people learn how to work, to learn skills, and how to be better citizens."
   The camp site will serve as the church group's new location for their annual camp meeting.  For the past several years they had been meeting at Baptist Park in Mapleton.  During their annual camp meetings, the Caribou SDA featured guest speakers to conduct seminars on Seventh Day Adventism in particular and the Christian message in general.  During those camp meetings they have also conducted seminars on various secular activities such as construction, upholstery, gardening, homesteading and healthy living.  The courses during the camp are open to all age groups.  They also offer life-skills teachings for teens.  Now that they have their own land they look forward to developing more permanent structures to facilitate those education genres.
   The Caribou SDA had actively been searching for land for the past year.  There were several options considered before they finally settled on this particular parcel on the west side of Caribou.  Patti Smith, from Fort Fairfield, who is also a member of the Caribou SDA along with her husband, Scott, said she could see God's hand in the process from the very beginning.  "I started watching these people put this together and miracles started to happen," said Smith. "You wonder is this the time, should we be doing this?  A lot of money is being spent, should we go forward?  I think God has said, 'Yes!'"
   Smith mentioned how the church group had been blessed by receiving legal assistance to create a 501 (c) 3 gratis all the way to acquiring the land, which had not been on the market, for a reduced price.  The land, which had formerly been a gravel pit, has been successfully perk-tested for several septic system locations and the well driller said they could find water anywhere on the property they wanted.
   The Caribou Planning Board came out in full support of the project when they were approached with the idea.   "They were very positive, they said this is just what this community needs," said Record.
   In addition to a learning center, the Caribou SDA plans to create a full service campground on the 70+ acre property, complete with bathhouse, rest rooms, bunk houses, a full kitchen and meeting hall.  There are also plans to allocate space for an orchard, large garden plot and greenhouses for food production and sales.
   "In the next few months, they're going to turn power on and bring a line in about six hundred feet onto the property," explained Record, "then we need to decide what to do from that point on."
  For more information on the Christian Education Center, contact John Record by phone at 455-4853.