Back to Fort Fairfield Journal      WFFJ-TV      Contact Us
Chloe Wheeler Makes Maine Potato Blossom Festival History
Becomes the First to Win all Five Maine Potato Queen Titles
By:  David Deschesne
Fort Fairfield Journal, August 1, 2018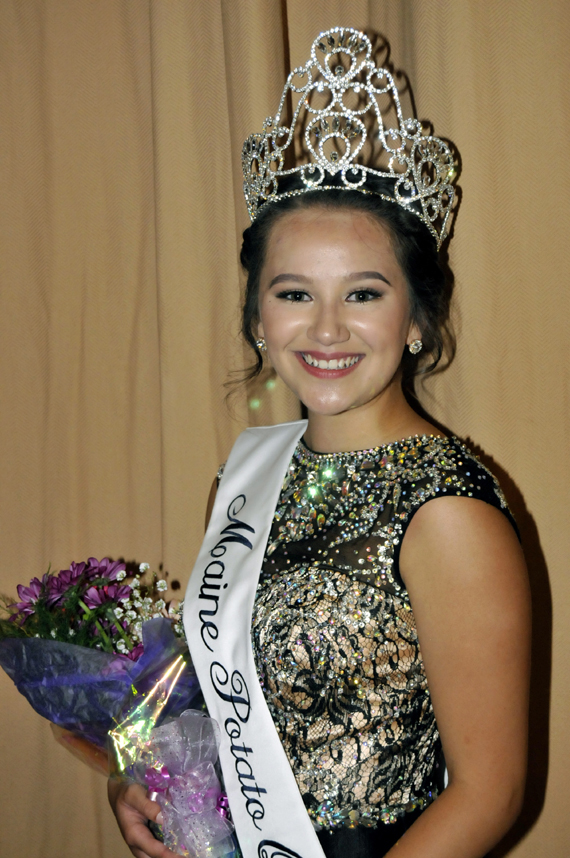 On July 21, 2018 Chloe Wheeler, Miss Mars Hill set a Maine Potato Blossom Festival landmark, which may never be achieved by anyone again, by winning her fifth Maine Potato Queen Title.  Since the Pre-Teen and Teen categories will be eliminated starting with next year's Potato Blossom pageant season, it is unlikely anyone will have the chance to achieve this record again.
   Chloe won her first Maine Potato Queen title in 2008.  She competed at that time as Little Miss Bridgewater and sang the popular Johnny Cash song, Folsom Prison Blues.
   She then returned in the newly formed Pre-Teen Miss division in 2011, representing Mars Hill and won the Pre-Teen title, singing Bob Segar's Old Time Rock and Roll.
   Two years later, it was the Chloe Weeler show at the Jr. Miss Maine Potato Queen pageant, where she took the title, singing Survivor's Eye of the Tiger.  In winning the Jr. Miss title in 2013 she set her first record by being the first in recorded history of the pageant program to win three Maine Potato Queen Titles.
   Not to be stopped at three Potato Queen Titles, Chloe went on to win the Teen Miss title in 2015, singing Leann Rimes' Blue.
   She finally reached the apex of the Maine Potato Queen pageant program by winning the fifth and last title, Maine Potato Queen this month.
  While talents are the primary focus for the audience, that portion only counts for 40 percent of the contestants' score.  Contestants are also judged on interview questions with a separate panel of judges, evening wear, and (starting with Jr. Miss) physical fitness which together account for 60 percent of their overall score.  In this respect, poise, grace and articulation are weighted heavier than talent alone.
  This  win of Chloe's is no small feat, especially considering the small window of opportunity for the Pre-Teen and Teen Miss divisions, which only began in 2010 and is be retired this year. Junior Miss records go back to 1998 and Little Miss Back to 1988.  The Miss pageant records go back as far as 1936, when the festival was in its early years.
   In recorded history of the Maine Potato Queen pageants, without taking the Pre-Teen and Teen Miss divisions into account, Wheeler is still the only person to achieve the Little, Jr. and Miss titles.
  To provide a frame of reference, there have only been eleven contestants in the past thirty years who achieved even two titles in the pageant program.  They are:
Renee Lapointe (Van Buren)
2013 Little Miss
2015 Pre-Teen Miss
Ashley Martin (Van Buren)
2004 Little Miss
2012 Miss
Molly Bouchard (Caribou)
2000 Little Miss
2008 Miss
Mikaela Powers (Mapleton)
2008 Jr. Miss
2010 Teen Miss
Emma Kinney (Presque Isle)
2011 Jr. Miss
2015 Miss
Hannah Stoutameyer (Mapleton)
2011 Teen Miss
2014 Miss
Yessenia Vilar (Presque Isle)
2014 Jr. Miss
2017 Miss
Janelle Tweedie (Mars Hill)
2011 Little Miss
2013 Pre-Teen Miss
Paige McHatten (Mapleton)
2015 Jr. Miss
2018 Teen Miss
Julie Shaw (Presque Isle)
1998 Jr. Miss
2002 Miss
Betsy Tweedie (Mars Hill)
1990 Little Miss
2001 Miss
Chloe's platform for the Maine Potato Queen pageant was to bring awareness to our veterans.  She is especially interested in how the Vietnam veterans were treated when they came home.  "Battered and bruised, broken and lost, ignored and forgotten; I want to talk to you about how we are failing them," Wheeler said during her speech to the pageant audience.  "Our World War II veterans were rightly honored with ticker-tape parades when they returned home but our Vietnam vets were greeted by an angry America.  There was no hero's welcome.  They came back and silently tried to slip into a normal life.  But so many came home with a heavy cross to bear and now, as our Vietnam vets continue to age, they need our help."
   Wheeler explained how those bureaucracies that were formed to help the veterans have fallen short.  "They are navigating a frustrating system that cannot keep up.  It is time to show those great men and women that they are not forgotten.
   To date, she has volunteered over 200 hours working with the Disabled American Veterans and says the most important thing she has learned is that we are falling short in caring for our vets.  "Organizations such as the DAV fill the void where those services fall short.  I am always honored and humbled to spend time with the veterans and their families and I would love to continue that service and bring awareness to our struggling vets.  They deserve so much more than we are giving them."
   Chloe, who was born in Los Angeles, lists her hobbies as snowboarding, singing, paddle boarding, working with kids and cheerleading.  She says she loves to travel and has traveled to six states, as well as Jamaica and Newfoundland.  She has also had the opportunity to sing the National Anthem in the Hall of Flags at the State House in Augusta, Maine.  Her most memorable moment was celebrating her birthday by riding a helicopter into the Grand Canyon.
   Chloe now joins a long, respectable line of Maine Potato Queen alumnus and for the next year will be working with the Maine Potato Board to promote the Maine Potato to the consumer and industrial food production markets.