Winter Wonderland.  Above:  The Everett house on the corner of Rt 167 and 1A creates an image worthy of a winter calendar scene.   On the morning of February 4, 2014, the trees in the area were covered with what appeared to be a thin sheet of ice.  WAGM TV meteorologist, Ted Shapiro told the Fort Fairfield Journal this effect may have been caused by either Hoar Frost or Rime Ice.  Hoar Frost is formed by direct condensation of water vapor to ice and occurs when moist air is brought to its frost point by cooling, then coming into contact with objects exposed to the free air, such as grass blades, tree branches, or leaves.  Rime ice occurs where super cooled water droplets in the air come into contact with a medium on which they can freeze.  Comparing internet photos between the two, this looked to this photographer most like Hoar Frost.                                                         photo/David Deschesne
Local News
February 19, 2014 - FFMS 8th Grade D.C. Field Trip Placed on Hold
February 19, 2014 - Fort Fairfield Town Council Meeting Audio now online. Click here to access index of mp3 files
On Saturday, February 8 around 5:00 pm a snowmobile caught fire under high power lines and transformers directly behind Boondock's Grille, in Fort Fairfield. Fort Fairfield Police and Fire Departments responded quickly to what could have been a real problem due to the location of the fire.   Fire Chief, Mike Jalbert said the cause of the fire was undetermined due to the extent of damages. The snowmobile was a 2003 Skidoo owned by Bruce Sergeant from Presque Isle. FFFD was on the scene for 17 minutes.            photo/Steve Adams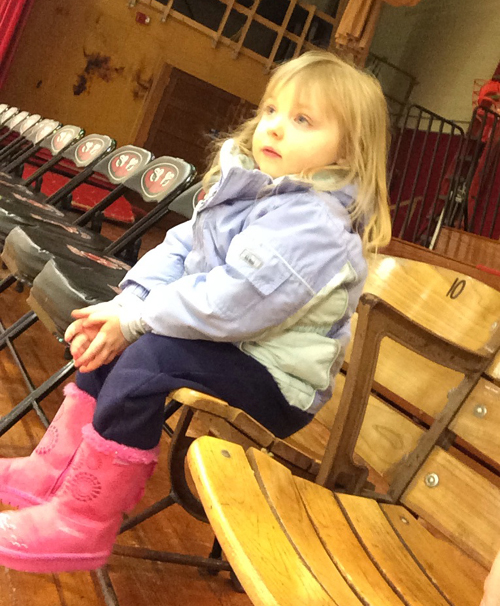 Hannah Cummings, granddaughter of Lady Tigers' coach, Larry Gardner sitting in a set of the old Bangor Auditorium seats now at Fort Fairfield High School gym. She is watching one of the Lady Tigers' practices. It has been predicted that she is a future star! contributed photo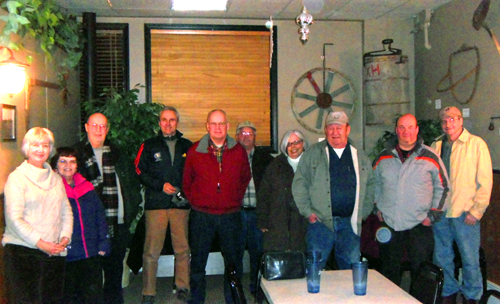 The Fort Fairfield High School class of 1969 recently held their 45th class reunion planning meeting at Boondock's Grill in Fort Fairfield. They will be having their reunion this summer during the Potato Blossom Festival on Saturday, July 19th at the Hampton Inn in Presque Isle.  Meeting attendees pictured above are (from left): Anne Theriault, Sheila McNeal, Dale Armstrong, Steve Towle, John Houghton, Roger Burtchell, Barb Haines Monti, Donnie Hayes, Gerald Saccucci, and Gerald Cote.                                                                                                                                                               contributed photo
The Fort Fairfield High School Varsity Cheerleaders performed their competition routine at halftime during the Tigers v. Van Buren game on February 5.  They traveled to Augusta to compete in the State cheering competition on February 8 where they came in 6th place.   photos/David Deschesne (see more photos here)
Upcoming Events
March 15, 2014 - "Frozen Motor Mayhem" snowmobile races at the Northern Maine Fairgrounds
Maine News
February 19, 2014 - MDEA Has Busy Week Busting Illegal Drug Dealers in Maine
February 5, 2014 - Fort Kent Sno Riders to Host 1st Annual USCC East Cross-Country Snowmobile Race
National News
February 19, 2014 - Obama Says Businesses Must Get I.R.S. Approval Before Laying Off Employees to Avoid Obamacare
Recent Stories
February 5, 2014 - Fort Fairfield Volunteer Firefighters Host Annual Awards Banquet
February 5, 2014 - Fort School Board Chair Responds to FFJ Story on D.C. Field Trip
February 5, 2014 - Apparitions at Fort Fairfield Middle/High School Gym?
January 22, 2014 - Crown to Lease Ambulance from Fort Fairfield
January 22, 2014 - 8th Grade D.C. Trip Proposal Draws Large Crowd to MSAD #20 School Board Meeting
January 22, 2014 - Fort Woman Arrested in Stabbing Incident
January 8, 2014 - Fort Fairfield Public Works Provides Big City Road Care on Small Town Budget
December 25, 2013 - Foster Retires as Town Manager After 15+ Years of Service to Community of Fort Fairfield
December 25, 2013 - MEMA Bureaucrat Still Doesn't Understand Libby Dams Gate Valves Even When Explained by Designer of Dams
December 11, 2013 - Local Amateur Radio Club Holds Christmas Party in Style
December 11, 2013 - Fort Fairfield Town Council Still Considering Solutions for Libby Dam Gate Valves
November 27, 2013 - Ladner Dies From Her Injuries
November 27, 2013 - Fort School Board Considers Head Lice Protocol
November 27, 2013 - Foster Explains Dump Sticker Price Increase
November 13, 2013 - Town Acquires Village Restaurant
November 13, 2013 - Drunk on Debt, Mainers Vote to Borrow More Money
November 13, 2013 - Larry Berz Hikes Mars Hill to Limestone
click here for archives of past stories
The audio recordings of most current Fort Fairfield Town Council Meetings are archived at the "MP3 Audio Files" in the left sidebar on this page.
SCHOOL VACCINE INFO
It is not mandatory for your child to receive potentially dangerous, toxic vaccines in order to attend public school. Click Here to download an immunization exemption form from the Maine Department of Education
Click here for great visual images that put the $16+ trillion National Debt into perspective!
Special Video Presentation:
"There Will Be No Economic Recovery: Prepare Yourself Accordingly"
Presented by Stefan Molyneux